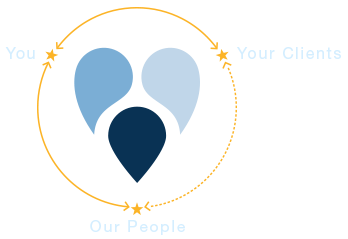 A new way to help you build your client relationships
Building strong relationships with clients is critical to sustain success. We designed our Orion Concierge Advisor Services Division to help you build long-lasting connections by offering personalized insurance products and services that your clients might otherwise shop for somewhere else.
Upon your request, we work with your clients to determine their needs, and they receive our expert guidance to find the best policies and benefits. Orion helps you strengthen your relationships and adds value, while keeping your clients loyal to you. We are always available to answer questions or make changes and updates directly with the client, removing the administrative burden from you.
---
Choose what you need, when you need it
Our wide range of insurance products and services means you can choose the exact ones that meet each of your client's needs. We welcome the challenge of filling unique requests. After all, no two clients are exactly alike.
---
We do the work
The Orion concept is that URL does the research, completes the application and provides your clients with solutions to meet their need. We keep you apprised of the process every step of the way until your client has been approved, achieving their goal.
---
Add revenue and diversify your services
When we have satisfied your client's objectives, you'll receive compensation for generating the opportunity. This will vary by program and involvement, but you will know in advance what to expect.
---
Peace of mind
You can rest assured our trained professionals will treat your client with the same respect and dedication as you would treat them yourself.